As email protection has increased, criminals have moved to attack users through SMS and other text messaging services. The cost to consumers of SMS scams alone was $330 million in the US last year, double that of 2021; this is not to mention phishing for credentials and distribution of malware. Additionally, Infoblox has seen a steady rise of attacks against Multi-Factor Authentication (MFA) via SMS since mid-2022. Over the last 6 months, Infoblox has detected 60-130 MFA "lookalike" domains every week, and we know that recent high-profile attacks on Retool and MGM involved MFA account takeovers. Finally, to evade detection, actors are using malicious link shorteners to hide their true intent. Infoblox recently published original research on Prolific Puma, a DNS threat actor who controls a massive network of domains and supports the criminal economy. This work was reported by Krebs on Security, Darknet Diaries, Bleeping Computer, and many other outlets.
Join this Infoblox webinar and learn how Infoblox detects threats that are used in SMS attacks.
How Infoblox discovered Prolific Puma where others did not, and how blocking threats like Prolific Puma at DNS resolution disrupts the cybercriminal economy
How Infoblox discovered the DNS threat actor Open Tangle, which uses SMS and lookalike domains to steal consumer credentials
How Infoblox detects and tracks other DNS threat actors, including the multiple Chinese threat actors currently targeting text messaging apps and the US postal service
Trends that Infoblox sees in MFA SMS phishing activities, including common targets and TTPs
Cybersecurity awareness training alone will not protect consumers and organizations from the onslaught of attacks being levied through SMS and texting apps. This webinar will show you what is happening and why DNS detection and response matters in combating SMS cybercrime.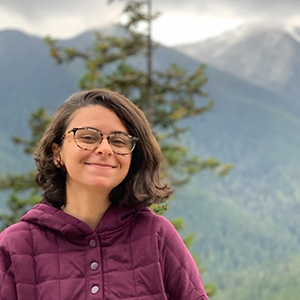 Laura da Rocha
Senior Data Scientist, Infoblox
Laura da Rocha is a Sr. Data Scientist at the Threat Intelligence Group at Infoblox, where she focuses on using statistical methods to identify threats relevant to DNS. For the past 4 years she has analyzed billions of DNS records to automate threat detection and false positive reduction. She has a Bachelor's degree in statistics and is finalizing her Master's degree in computer science.
Brent Eskridge, PhD
Staff Threat Hunting Specialist, Infoblox
Brent Eskridge, PhD, is a Staff Threat Hunting Specialist with over 25 years of experience in the field. He has held positions as a software engineer, university professor, and, most recently, a threat intelligence analyst. Brent is currently a member of Infoblox's Threat Intelligence Group, which provides customers with intelligence needed to block the newest threats. He has a doctorate in computer science.
Save your spot to learn about SMS Cybercrime:
A DNS Perspective
Wednesday, December 13, 2023
8 am PST | 11 am EST | 4 pm GMT
Please complete the form below to register