LAN (Local Area Network) is a computer network that connects computers and devices in a limited geographical area, such as home, school, computer laboratory, or office building. As opposed to wide area networks (WANs), LANs usually include higher data-transfer rates, smaller geographic areas, and the lack of a need for leased telecommunications lines.
LEARN MORE ABOUT LAN (Local Area Network) AND RELATED TECHNOLOGIES
FROM THE INFOBLOX COMMUNITY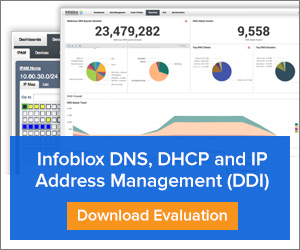 Infoblox is leading the way to next-level DDI with its Secure Cloud-Managed Network Services. Infoblox brings next-level security, reliability, and automation to on-premises, cloud and hybrid networks, setting customers on a path to a single pane of glass for network management. The recognized industry leader, Infoblox has over 8,000 customers, including 350 of the Fortune 500.