A Syslog is a standard for logging program messages, Syslog allows separation of the software that generates messages from the system that stores them and the software that reports and analyzes them. For devices that would otherwise be unable to communicate, Syslog provides a means to notify administrators of problems or performance. Syslog can be used for computer system management and security auditing as well as generalized informational, analysis, and debugging messages. Supported by a wide variety of devices (like printers and routers) and receivers across multiple platforms, Syslog can be used to integrate log data from many different types of systems into a central repository.
LEARN MORE ABOUT Syslog AND RELATED TECHNOLOGIES
FROM THE INFOBLOX COMMUNITY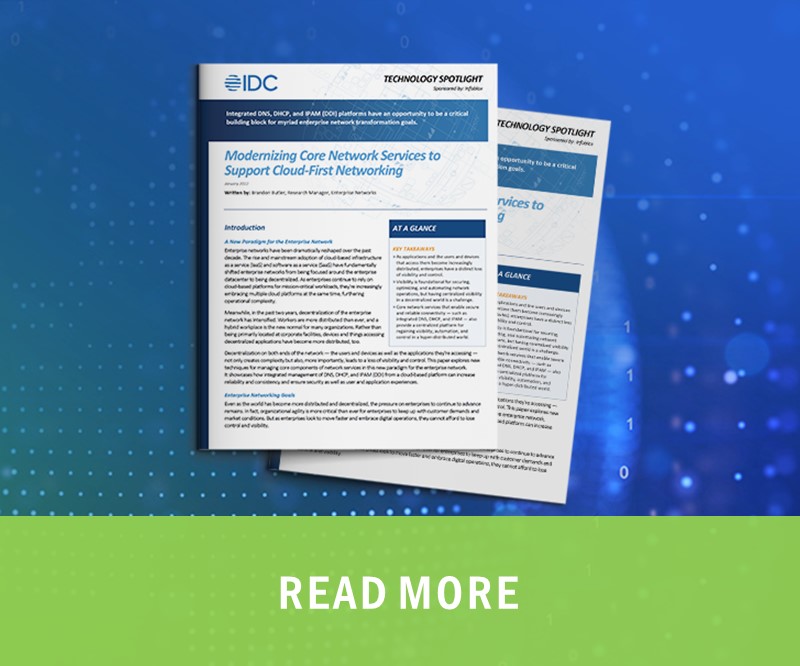 Infoblox is leading the way to next-level DDI with its Secure Cloud-Managed Network Services. Infoblox brings next-level security, reliability, and automation to on-premises, cloud and hybrid networks, setting customers on a path to a single pane of glass for network management. The recognized industry leader, Infoblox has over 13,000 customers, including 375 of the Fortune 500.
Let's talk
core networking

and

security