NetMRI® is an Infoblox proprietary network management product that delivers comprehensive network change and configuration management (NCCM). NetMRI enables users to automate network change, see the impact of changes on network health, manage network configurations, and meet a variety of compliance requirements. Offering physical and virtual appliance deployment options, NetMRI audits multi-vendor infrastructures, identifies anomalies early, speeds resolution, and automates network changes.
LEARN MORE ABOUT NetMRI® AND RELATED TECHNOLOGIES
FROM THE INFOBLOX COMMUNITY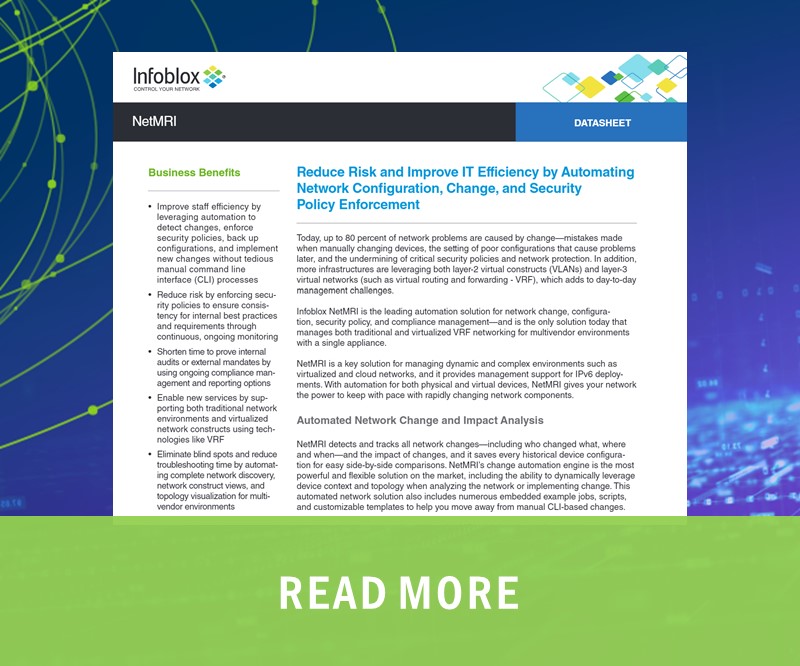 Infoblox is leading the way to next-level DDI with its Secure Cloud-Managed Network Services. Infoblox brings next-level security, reliability, and automation to on-premises, cloud and hybrid networks, setting customers on a path to a single pane of glass for network management. The recognized industry leader, Infoblox has over 13,000 customers, including 375 of the Fortune 500.
Let's talk
core networking

and

security