IPv6 is the evolutionary version of the Internet Protocol (IP) reviewed in IETF standards committees to replace IP version 4. IPv6 is designed to allow the Internet to grow steadily, both in terms of the number of hosts connected and the total amount of data traffic transmitted. IPv6 is being phased in throughout the world in stages and will eventually (within a decade or so) fully replace IPv4.
LEARN MORE ABOUT IPv6 AND RELATED TECHNOLOGIES
FROM THE INFOBLOX COMMUNITY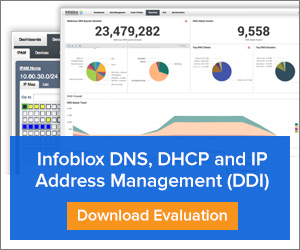 Infoblox is leading the way to next-level DDI with its Secure Cloud-Managed Network Services. Infoblox brings next-level security, reliability, and automation to on-premises, cloud and hybrid networks, setting customers on a path to a single pane of glass for network management. The recognized industry leader, Infoblox has over 13,000 customers, including 375 of the Fortune 500.
Let's talk
core networking

and

security