IF-MAP (Interface for Metadata Access Points) is an open-standard client server protocol that enables standards-based IT Orchestration. IF-MAP was developed by the Trusted Computing Group as one of the core protocols of the Trusted Network Connect (TNC) open architecture. IF-MAP provides a common interface between a metadata access point, a database server acting as a clearinghouse for information about security events and objects, and other elements of the TNC architecture.
LEARN MORE ABOUT IF-MAP (Interface for Metadata Access Points) AND RELATED TECHNOLOGIES
FROM THE INFOBLOX COMMUNITY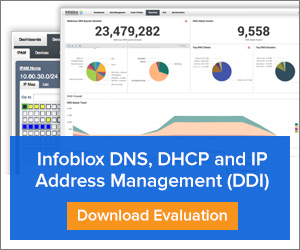 Infoblox is leading the way to next-level DDI with its Secure Cloud-Managed Network Services. Infoblox brings next-level security, reliability, and automation to on-premises, cloud and hybrid networks, setting customers on a path to a single pane of glass for network management. The recognized industry leader, Infoblox has over 8,000 customers, including 350 of the Fortune 500.