The Health Insurance Portability and Accountability Act (HIPAA) of 1996 (P.L.104-191) was enacted by the U.S. Congress in 1996. It was originally sponsored by Sen. Edward Kennedy (D-Mass.) and Sen. Nancy Kassebaum (R-Kan.). Title I of HIPAA protects health insurance coverage for workers and their families when they change or lose their jobs. Title II of HIPAA, known as the Administrative Simplification (AS) provisions, requires the establishment of national standards for electronic healthcare transactions and national identifiers for providers, health-insurance plans, and employers. The Administration Simplification provisions also address the security and privacy of health data. The standards are meant to improve the efficiency and effectiveness of the nation's healthcare system by encouraging the widespread use of electronic data interchange.
LEARN MORE ABOUT Health Insurance Portability and Accountability Act (HIPAA) AND RELATED TECHNOLOGIES
FROM THE INFOBLOX COMMUNITY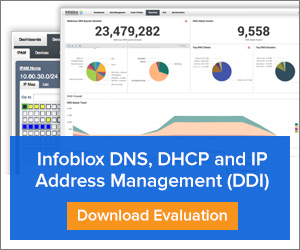 Infoblox is leading the way to next-level DDI with its Secure Cloud-Managed Network Services. Infoblox brings next-level security, reliability, and automation to on-premises, cloud and hybrid networks, setting customers on a path to a single pane of glass for network management. The recognized industry leader, Infoblox has over 8,000 customers, including 350 of the Fortune 500.