Infoblox Platform Appliances:


Optimize your Enterprise
Better performance, more capabilities and easier management for the​
​hybrid, multi-cloud network
Deploy your way:
physical, software,
cloud and COTS
Infoblox appliances are available in a variety of options to match an organization's specific requirements. They integrate with a broad array of automation and orchestration platforms and are simple to deploy through flexible licensing.
Physical appliances—purpose-built and more reliable, scalable and secure than general-purpose servers
Software and cloud appliances—identical functionality but with a lower technology footprint
COTS—Infoblox appliances available as commercial off-the-shelf (COTS) options that meet stringent performance standards
NIOS 9.0.1:
Optimize your enterprise
with
purpose-built Trinzic X6 appliances
Integrated physical and software appliances to power
your critical and hybrid, multi-cloud networks
Hybrid deployment

of Infoblox appliances
This diagram shows our hybrid architecture powered by the Infoblox Grid along with ecosystem integrations. The unique architecture enables the seamless deployment of Infoblox physical, virtual and cloud appliances whether on-premises or in the cloud.
"With Infoblox, we've been able to upgrade and replace units in the middle of the day, and the new units seamlessly rejoin the Grid without impacting users or service availability."
IT Security Analyst, Canada's Department of Agriculture
Trinzic X6

Purpose-Built Physical and Software Network Appliances

Trinzic X6 physical and software network appliances deliver all the capabilities you need to see, secure, analyze and manage your on-prem, private/hybrid- and public/multi-cloud enterprise. Infoblox's Trinzic X6 appliances run on NIOS 9 or higher and improve:
Performance – Delivering up to 50% better DNS and DHCP performance over prior models
Capability – Including Cloud Platform API, DNS Firewall (RPZ) and DTC load balancing licenses, multi-power supply options and Trinzic X5 and X6 subscription hosting to protect investment
Simplification – Consolidating eight Trinzic X5 to five Trinzic X6 models, enabling services to run on a common model and supporting on-prem, private and public cloud environments
Hypervisors
Microsoft Hyper-V
Nutanix AHV
OpenStack KVM
VMware ESXi
Private clouds
Nutanix
OpenShift
OpenStack
VMware
Public clouds
AWS
Microsoft Azure
Google Cloud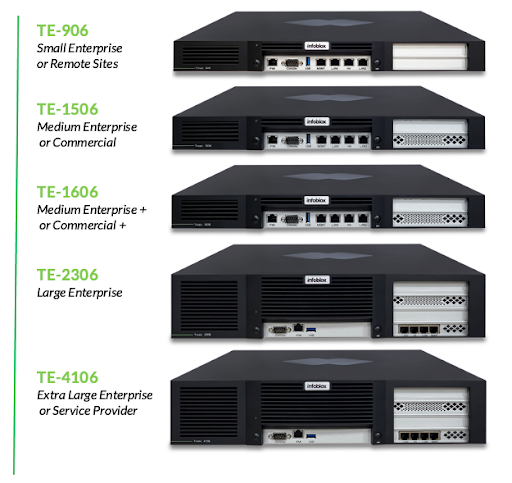 Trinzic Enterprise DDI

(DNS, DHCP and IPAM) appliances

Enterprise Trinzic appliances deliver the speed, capacity and functionality required to get the most from emerging digital technologies. They are sized to optimize service from the smallest remote office to the largest enterprise or service provider, with other options including COTS and virtualization platforms.
Hypervisors
Microsoft Hyper-V
Nutanix AHV
OpenStack KVM
VMware ESXi
Public clouds
AWS
Microsoft Azure
Google Cloud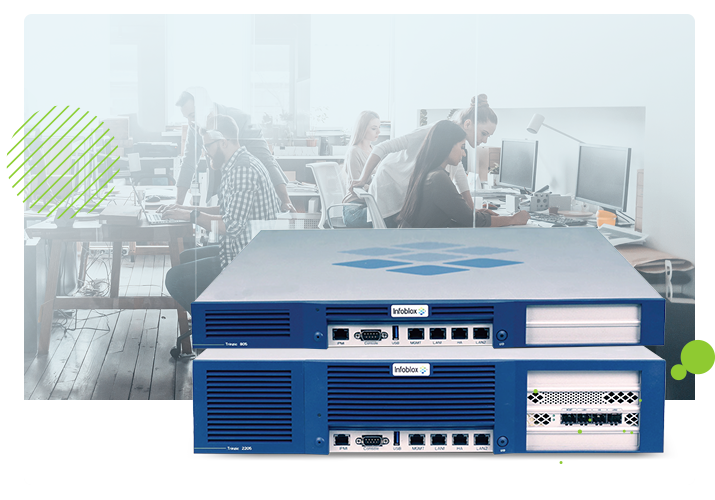 Network Insight

appliances

These appliances facilitate on-premises data collection and correlation for asset discovery, visibility and better network management. They can accommodate networks of any scale or distribution and help deliver authoritative IPAM as the single source of truth for your organization.
Hypervisors
Nutanix AHV
OpenStack KVM
VMware ESXi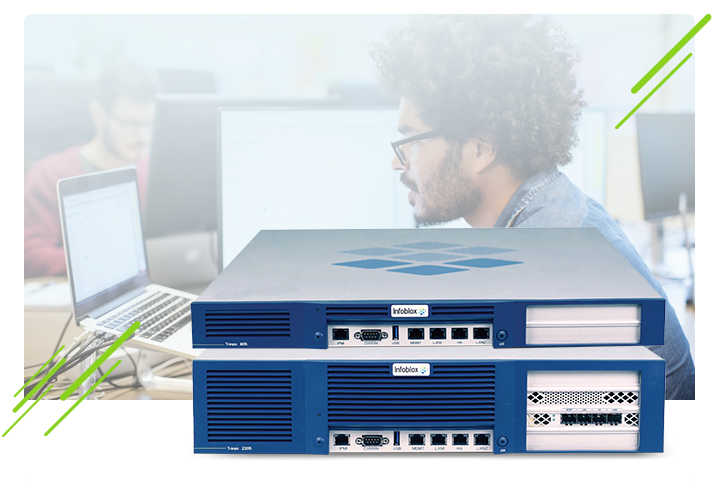 Reporting and Analytics

appliances

These appliances integrate with the Infoblox Grid to deliver real-time visibility with zero performance impact on DDI network service appliances. This capability enables you to analyze, control and secure your network and remediate threats faster using data-driven insights.
Hypervisors
Microsoft Hyper-V
Nutanix AHV
OpenStack KVM
VMware ESXi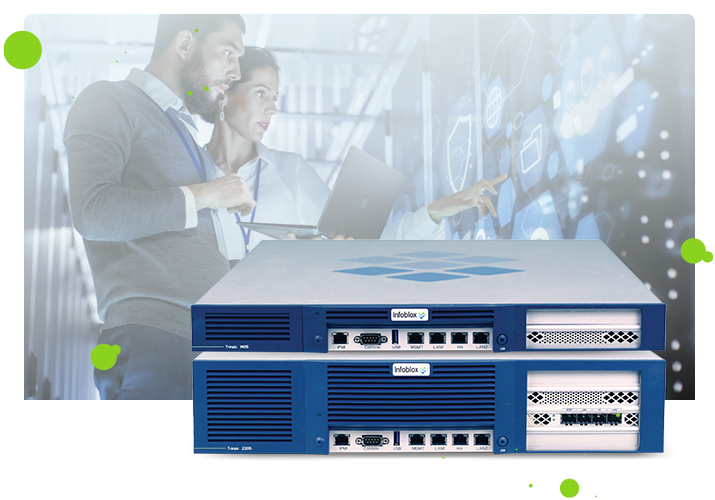 Network automation

appliances

These virtual appliances lower TCO by saving hardware, power, cooling and real-estate costs while delivering flexible, high-availability performance and reliability. They provide unmatched agility, manageability and scalability to simplify and automate complex multi-platform workflows and enable consistent, policy-compliant security protocols.
Hypervisors
Nutanix AHV
OpenStack KVM
VMware ESXi
Commercial off-the-shelf (COTS)

appliances

These appliances are designed for simplified planning and flexible scalability, enabling you to nimbly meet changing business needs. Currently available only for BloxOne DDI, all COTS appliances are designed to meet minimum throughput and capacity specifications.
Hypervisors/container runtime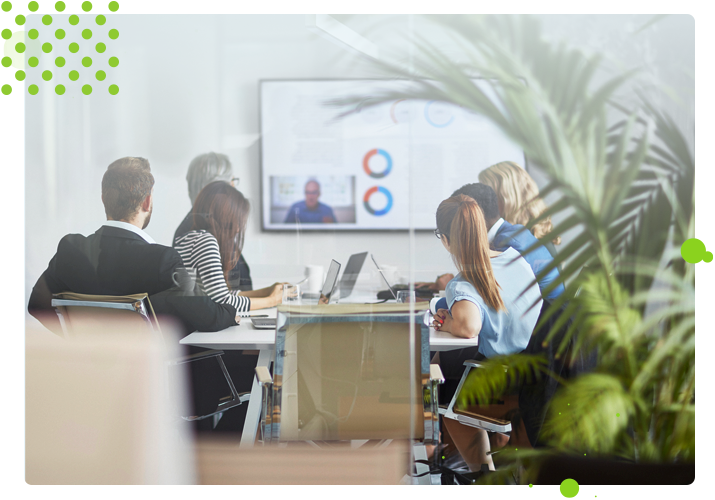 Infoblox's flexible licensing gives you a simpler migration path to virtual and cloud architectures, offers budget flexibility and helps align your procurement needs with your business imperatives.
Customers are automatically eligible to receive software upgrades for the appliances, physical or virtual regardless of whether they are deployed in their own virtualized environment (like VMware and OpenStack) or in the public cloud (like AWS and Azure).
Please contact your Infoblox account team for more details.
DNS, DHCP
& IPAM (DDI)
Unify DNS, DHCP and IPAM across on-premises and cloud data centers
DNS, DHCP & IPAM (DDI)
Unify DNS, DHCP and IPAM across on-premises and cloud data centers
Multi-Cloud
Streamline the network management of multi-cloud solutions
Multi-Cloud
Streamline the network management of multi-cloud solutions
Network Insight
Enhance discover, security and efficiency with Network Insight
Network Insight
Enhance discover, security and efficiency with Network Insight
BloxOne® DDI
Simplify and scale cloud access everywhere with automated, cloud-managed DNS, DHCP and IPAM
BloxOne® DDI
Simplify and scale cloud access everywhere with automated, cloud-managed DNS, DHCP and IPAM