Trivial File Transfer Protocol (TFTP) is a data transfer service that provides devices — such as phones, RFID readers, IP cameras, and other devices — with up-to-date software and configuration data.
LEARN MORE ABOUT Trivial File Transfer Protocol (TFTP) AND RELATED TECHNOLOGIES
FROM THE INFOBLOX COMMUNITY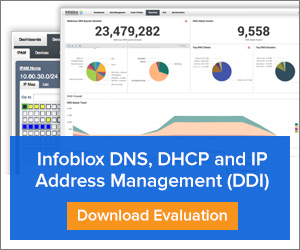 Infoblox is leading the way to next-level DDI with its Secure Cloud-Managed Network Services. Infoblox brings next-level security, reliability, and automation to on-premises, cloud and hybrid networks, setting customers on a path to a single pane of glass for network management. The recognized industry leader, Infoblox has over 8,000 customers, including 350 of the Fortune 500.