Simple Network Management Protocol (SNMP) is used to monitor network-attached devices for conditions that warrant administrative attention, SNMP is an Internet-standard protocol for managing devices on an IP network, such as routers, switches, servers, workstations, printers, modem racks, and others.
LEARN MORE ABOUT Simple Network Management Protocol (SNMP) AND RELATED TECHNOLOGIES
FROM THE INFOBLOX COMMUNITY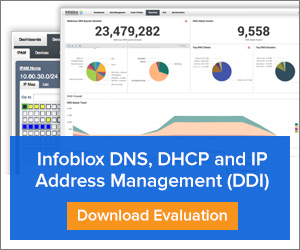 Infoblox is leading the way to next-level DDI with its Secure Cloud-Managed Network Services. Infoblox brings next-level security, reliability, and automation to on-premises, cloud and hybrid networks, setting customers on a path to a single pane of glass for network management. The recognized industry leader, Infoblox has over 8,000 customers, including 350 of the Fortune 500.