The Domain Name System Security Extensions (DNSSEC) is a suite of Internet Engineering Task Force (IETF) specifications for securing certain kinds of information provided by DNS for use on IP networks, DNSSEC is a set of extensions to DNS which provide to DNS clients (resolvers) origin authentication of DNS data, authenticated denial of existence, and data integrity, but not availability or confidentiality. DNSSEC is necessary because the original DNS design did not include security, but rather was designed to be a scalable distributed system. DNSSEC adds security while maintaining backwards compatibility.
LEARN MORE ABOUT Domain Name System Security Extensions (DNSSEC) AND RELATED TECHNOLOGIES
FROM THE INFOBLOX COMMUNITY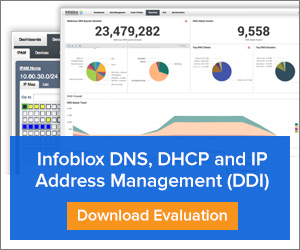 Infoblox is leading the way to next-level DDI with its Secure Cloud-Managed Network Services. Infoblox brings next-level security, reliability, and automation to on-premises, cloud and hybrid networks, setting customers on a path to a single pane of glass for network management. The recognized industry leader, Infoblox has over 8,000 customers, including 350 of the Fortune 500.