Domain Name System (DNS) is a hierarchical naming system built on a distributed database for computers, services, or any resource connected to the Internet or a private network. Most importantly, it translates domain names meaningful to humans into the numerical identifiers associated with networking equipment for the purpose of locating and addressing these devices worldwide. Analogous to a network "phone book," DNS is how a browser can translate yahoo.com to the actual IP address of the Yahoo web servers (66.94.234.13). In short, DNS translates names into IP addresses.
LEARN MORE ABOUT Domain Name System (DNS) AND RELATED TECHNOLOGIES
FROM THE INFOBLOX COMMUNITY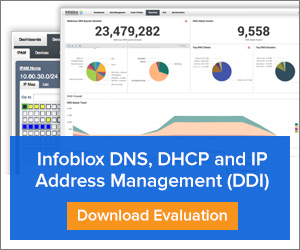 Infoblox is leading the way to next-level DDI with its Secure Cloud-Managed Network Services. Infoblox brings next-level security, reliability, and automation to on-premises, cloud and hybrid networks, setting customers on a path to a single pane of glass for network management. The recognized industry leader, Infoblox has over 8,000 customers, including 350 of the Fortune 500.