What is Command-line Interface (CLI)?
A Command-line Interface (CLI) is a mechanism for interacting with an operating system or software by typing commands to perform specific tasks. This text-only interface contrasts with the use of a mouse pointer with a graphical user interface (GUI) to click on options, or menus on a text user interface (TUI) to select options. CLI is how Infoblox NetMRI logs into devices to gather information and make changes to configurations.
LEARN MORE ABOUT Command-line Interface (CLI) AND RELATED TECHNOLOGIES
FROM THE INFOBLOX COMMUNITY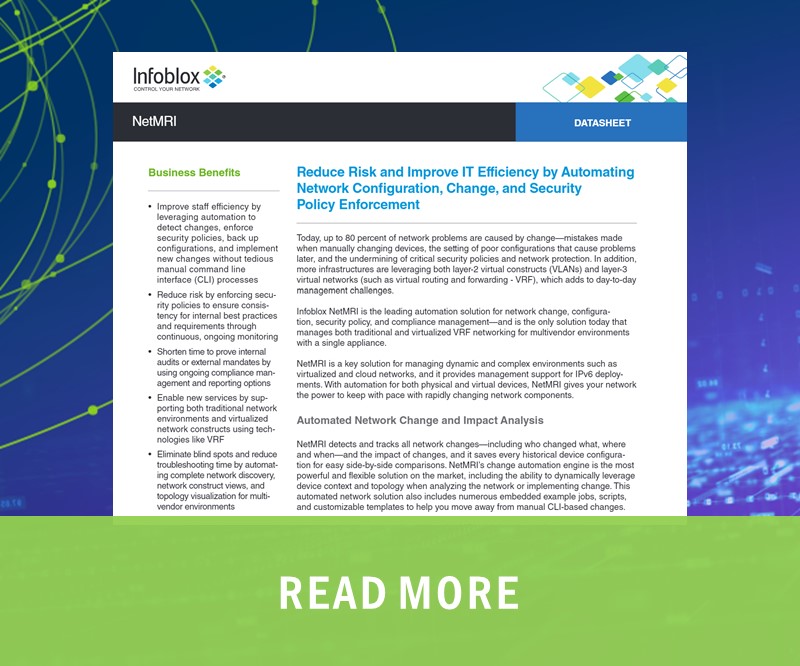 Infoblox is leading the way to next-level DDI with its Secure Cloud-Managed Network Services. Infoblox brings next-level security, reliability, and automation to on-premises, cloud and hybrid networks, setting customers on a path to a single pane of glass for network management. The recognized industry leader, Infoblox has over 13,000 customers, including 375 of the Fortune 500.
Let's talk
core networking

and

security