Featured

stories & events
Teaming up to
drive positive change
At Infoblox, we're all about actively giving back whenever we can. That's why we sponsor events and programs where our employees and partners can create stronger communities through volunteer efforts, improve the health of the environment, or simply express their creativity and have fun on the athletic field. Here's a sampling of some of the ways our Infoblox family are teaming up to drive positive change in their local communities all over the world.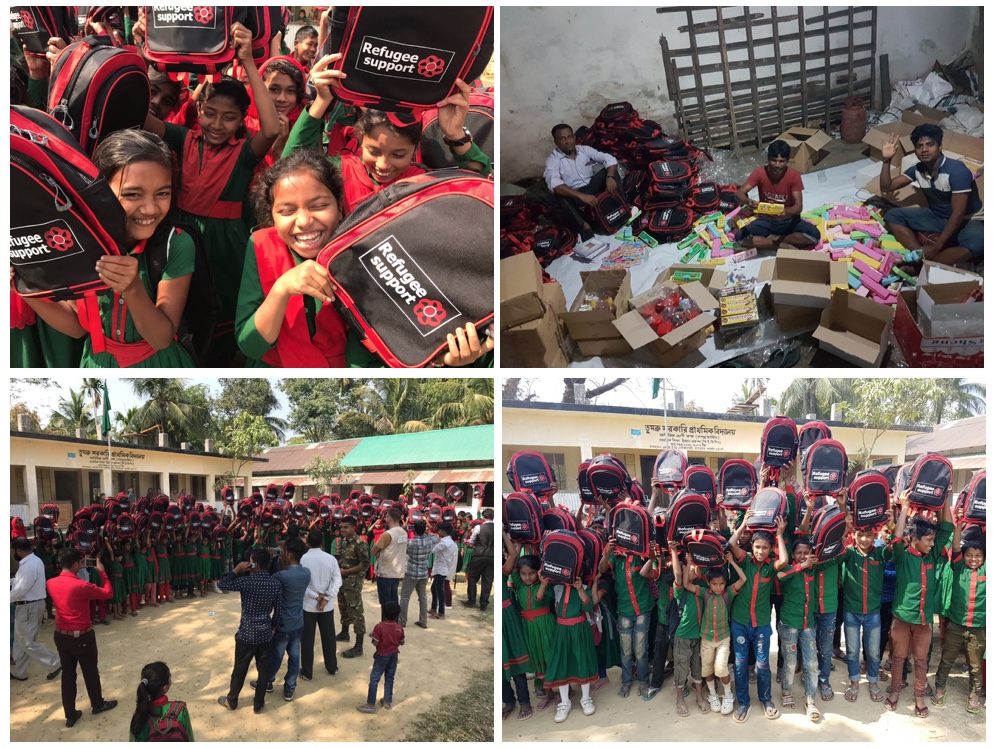 Every year the WW Sales team gathers to kick off our new year, and at the same time, we come together to give back to our communities. During our virtual SKO this year, we partnered with three charities in each of our geo regions: Elevate New England; Touch Community Services; and Refugee Support Europe. Bloxers around the globe raised over $60,000, including a Fittest of the Field stationary biking race that raised $10,000 for the three nonprofits, each championed by a regional team.
Help for Victims of the
Beirut Explosion
Lebanon's capital city of Beirut has been rocked by a massive explosion that killed at least 113 people and injured 5,000 others. The country was already suffering its worst economic crisis since the 1975-90 civil war. Added to that is the ongoing COVID-19 pandemic, with cases on the rise throughout the country. Lebanon's health sector is short of beds and lacks the necessary equipment to treat the injured and care for patients in critical condition. As rescue workers continue to sift through the rubble, the fear is that the death toll will climb significantly higher. Many homes and businesses have been destroyed, and it's estimated that as many as 300,000 people will be left homeless following this disaster.
Infoblox employees stepped up to send aid to Beirut and raised over $16,000 to go to four local aid agencies providing medical services, shelter and support for those who have lost their homes.
Spring 2021 – Infoblox held three geo Partner Summits virtually in March and April 2021. The goal was to inform and inspire our channel community around our pivot to SaaS while driving new growth with new logos and security. At each partner summit, we incorporate a give-back element. We are proud to announce that Infoblox and our channel community raised over $20,000 to our geo specific charities Bodhi Battalion, Charity Ball, and Touch Community Services.
2020 Infoblox
SKO Diversity Scholarship

for the University of Washington Tacoma
Bloxers raised $51,000, including a $25,000 company match, for a scholarship for students at the University of Washington Tacoma School of Engineering and Technology who: have demonstrated a commitment to diversity, have experience overcoming adversity and racial bias, and/or have a demonstrated commitment to equity and inclusion. Employees from all global regions made donations to this cause during the live SKO event. The Infoblox SKO Diversity Scholarship was distributed to three students for 2020 fall semester and four more students for the winter semester. Thank you to all who donated to make a huge difference in these students' future.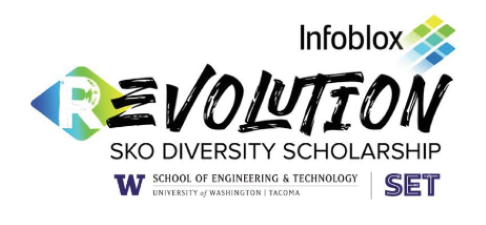 President's club
give back
Fall 2019 – The Infoblox President's Club trip for 2018-2019 took place on the spectacular South Pacific island of Bora Bora, in French Polynesia in October, 2019. It's a President's Club tradition that the team makes a charitable donation to a local civic or community resource, and as part of our community giveback imitative for the Bora Bora President's Club we partnered with EEG (Enterprise Events Group) to help out a local organization, the Centre pour Jeunes Adultes/Apprenti (Center for Young Adults/Apprentices).
CJA was created in 1986 in order to offer teenagers who are not enrolled in the school system – because of learning difficulties, disabilities or other circumstances – an opportunity to attend a traditional government learning system. About 40 teenagers between 12 and 17 years old are divided into four sections: woodwork/handcraft; metal work; agriculture; and kitchen/sewing. At the end of the three-year program, graduating students receive a certificate and will have the opportunity to enroll in a traditional school or start a professional life. They school has limited means – only five teachers and little funding, which presents a challenge when it comes to technical skills where practical experience with tools and equipment is essential to learning.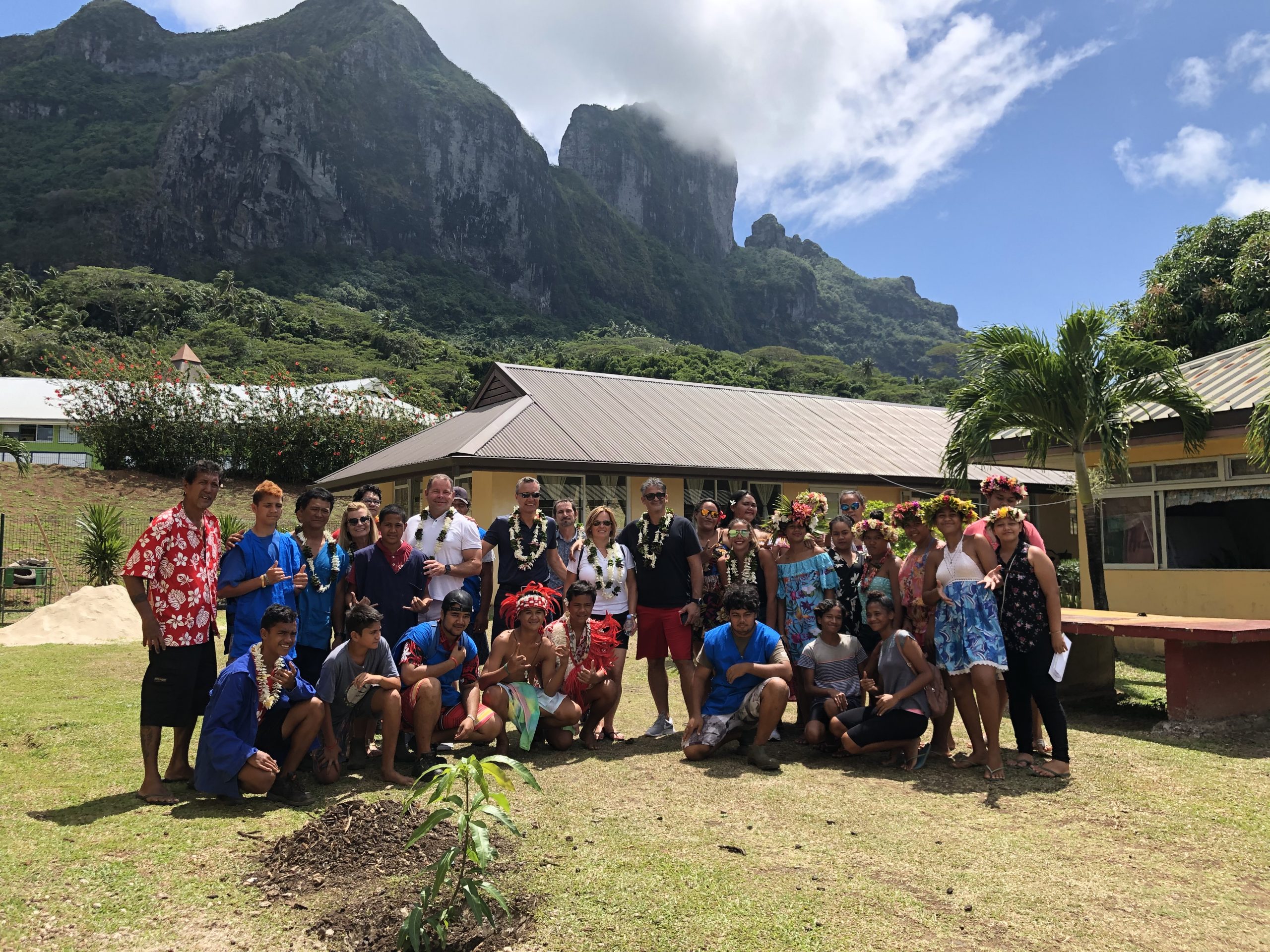 During the visit several Infoblox executives met with the students and educators and got to see firsthand how our funds were being put to use. The group was incredibly appreciative of our visit and time and even planted a mango tree in our honor. What is so interesting about this charity, is that it took us a while to find them! The people of Bora Bora are very self-sufficient and content with their lifestyle. So, it was a challenge to be matched with an organization that would accept our donation. We were happy to be able to spend some time with the students, teachers and staff at CJA, and we hope our financial assistance will bring positive returns in the years ahead.
PHOTO CAPTION: Infoblox team members visiting with students, teachers and staff at the Centre pour Jeunes Adultes/Apprenti in Bora Bora.
Back to school:
Backpack drive aids California youth
Summer 2019 – In August, Bloxers at headquarters filled more than 100 backpacks with school supplies to be given to local youth for the next school year. Employees not only helped their community, they also connected with each other over an ice cream social. Have a great school year students!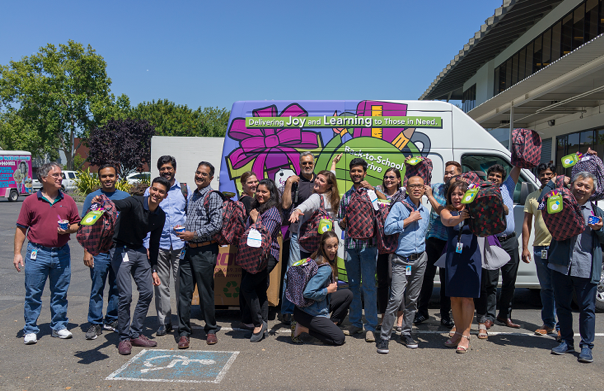 Infoblox teambuilding

results in donation to the Bill & Lillie Heinrich YMCA in Las Vegas
Summer 2019 – A group from the Infoblox took time during their Sales Kickoff for a corporate social responsibility experience to give back to the local community by preparing 220 solar car kits for donation along with 44 assembled solar cars to the Bill & Lillie Heinrich YMCA. Additionally, Infoblox generously donated two Robotics Classroom Kits, stem education and school supplies to the Y's after school programs. The event took place at The Encore Hotel in Las Vegas, Nevada on August 7, 2019.
For this event, Infoblox selected "Go GREEN Racing." Go GREEN Racing focuses on the importance of youth learning in the areas of science, technology, engineering and math (STEM education), and alternative energy at an early age. During a highly energized and competitive program, each team built a solar car in preparation for an exciting, single-elimination race.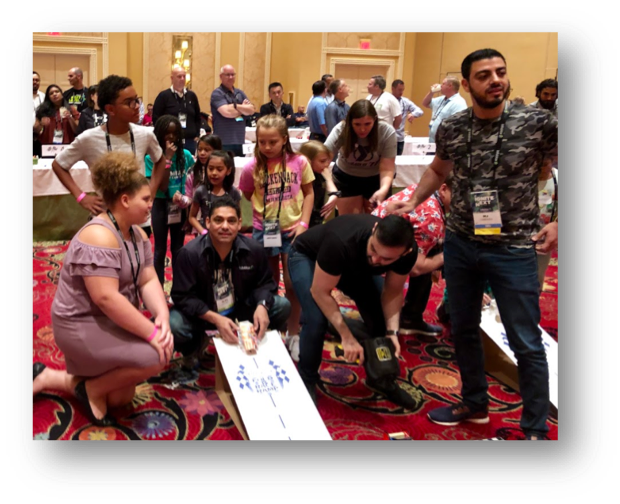 Along the way, teams prepared 220 solar car kits for the kids who will be participating in local youth STEM programs which allow the young minds to be introduced to and learn about STEM education in a hands-on manner. A hand-written "STEM Message of Encouragement" was included with each solar car kit to motivate and inspire the children! As a surprise to the attendees, kids from the Bill & Lillie Heinrich YMCA Summer camp joined the group to participate in the exciting final race. Infoblox provided each participating child a back pack, a snap circuit kit and a gift certificate for school supplies to thank them for joining the fun.
The YMCA of Southern Nevada has been strengthening the community since 1944. Every day, the Y works side by side with its neighbors to ensure that everyone, regardless of age, income or background, has the opportunity to learn, grow and thrive. The Y is one of the nation's leading nonprofits strengthening communities through youth development, healthy living and social responsibility. No one is turned away because of an inability to pay. This year, 65,000 Southern Nevadans – nearly half of them kids – will come to the Y to learn, grow and thrive. Across the U.S., Y membership is 21 million strong, and spread across more than 2,600 Y associations. The YMCA of Southern Nevada has four locations serving the Las Vegas valley: Bill & Lillie Heinrich YMCA; Durango Hills YMCA; Centennial Hills YMCA and SkyView YMCA.
Brittney Pauli, representative of the Bill & Lillie Heinrich YMCA, graciously thanked the group in person at the event for their time and effort in helping to provide these much appreciated gifts to some very deserving children. Following the event, Jessica Underwood, Youth and Family Coordinator of the Club added, "Thanks to Infoblox's generous donation, we are thrilled to announce the launch of additional afterschool STEM programming at two of our YMCA locations. Youth will have the opportunity to participate in Robotics clubs and Lego engineering, as well as a host of other educational programming. Your company has truly provided our youth with the gift of learning, and I am so excited to watch them explore and grow using the tools you have provided."
PHOTO CAPTION: Infoblox team members helping out kids from the Bill & Lillie Heinrich YMCA with their Go GREEN Racing solar car kits.
Benevity Campaign

raises funds for veterans
Summer 2019 – TCraig Koltonow, VP of sales for Americas West, wanted to thank Brian McTevia, the distribution account manager in channel marketing, for all the help he has given the sales team. So, he organized a charitable giving campaign to raise money for the Bodhi Battalion, a nonprofit founded by McTevia's wife, JoAnna.
The charity is "dedicated to housing homeless veterans and helping veterans find the treatment, guidance and security they need to rebuild their lives," according to its mission statement. The sales team – with matching funds from Infoblox – raised $7,700 for the nonprofit.
"We could raise money for this incredible charity in his honor and show our support, while changing the lives of those who are so deserving," Koltonow said. He learned about the nonprofit when he attended one of its events last year and saw veterans who had been provided with homes and other assistance. "I saw firsthand how this charity impacted the lives of our veterans."
When McTevia learned of the donations, he said, "It is not often I am at a loss for words, but I am this time. Our new company tagline should be, 'Our tech is great and our people are better.'"
JoAnna McTevia also sent the "amazing Infoblox team" a note thanking them for their support, noting that the group provided housing support, case management and clinical and mental health service for about 120 veterans last year: "Thank you for your tremendous support and believing in what we do. We are committed to our service to veterans and excited to have the opportunity to fulfill our mission."
You can learn more about the nonprofit at bodhibattalion.org. The giving campaign is managed through Benevity's Okta tile: Giving Your Way.
Contributions of time and money:

Mentoring young women
Spring 2019 – How can you use a combination of financial donations, technology and time to help change lives thousands of miles away?
Bindu Kandoori, a staff software engineer in Infoblox's Santa Clara headquarters, is doing just that through her work with the Women's Education Project (WEP). The group helps young women in India who are living below the poverty line to get an education so they can enter careers that interest them.
Two of the three centers the project works with are on the outskirts of Hyderabad, Kandoori's hometown. She learned about the group from a friend, also from Hyderabad, who supported the organization.
This year, Kandoori also started volunteering. With the founder and executive director, she is in the process of becoming a WEP mentor, to provide weekly Skype calls to tutor the young women in Python and JavaScript, and to further facilitate discussions on public speaking and interview skills. On a recent trip to Hyderabad, she visited the WEP centers to meet the women in person.
"Because of WEP, they know how important their education is," Kandoori says. "As a volunteer, I encourage them further, to help them enter and stay in a career — the mission of WEP. The transformation in these young women is remarkable, and I am so proud to be a part of it."
The Women's Education Project is one of the nonprofits listed in Giving Your Way, so it's easy to make a donation and have it matched.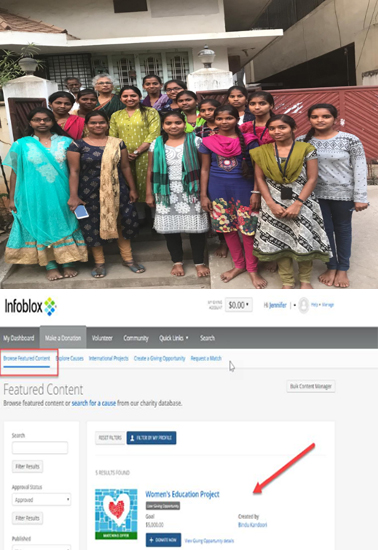 Bangalore Engineers

Sponsor Hackathon, Mentor Students
Spring 2019 – In March, Infoblox sponsored a hackathon for engineering students at PES University in Bangalore. The hackathon, called dotSlash, included 57 teams, selected from an original 429 registrations. Teams competed in five categories: blockchain, big data analytics, artificial intelligence/machine learning, Internet of Things (IoT), and mobile. Infoblox's Shankar PJ, software engineer, and Aruna Chakkirala, data scientist, were judges, distributing prizes and telling participants about Infoblox and its workplace culture.
A month earlier, Shankar PJ and Balaji Padnala's engineering team mentored Stanford University students in the TreeHacks Hackathon, and two of their projects won.
For more details on both events, including the winning TreeHacks projects, see the our APE Site Engineering Activities page.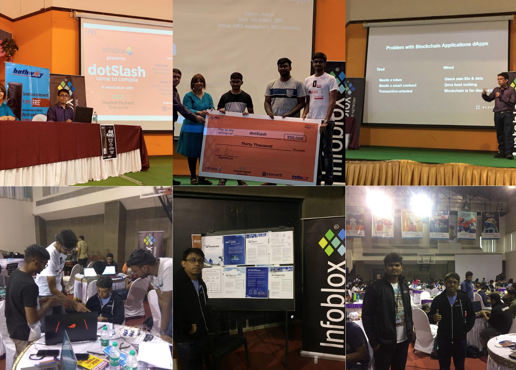 Engineering Team

assists food bank
Winter 2018 – A group of Infoblox engineers volunteered on November 30 at Second Harvest Food Bank, which helps provide meals for a large number of people in Santa Clara County, where Infoblox is based. At the warehouse they helped sort and pack squash into more convenient boxes for distribution to local food pantries. With some help from volunteers from another local company, they sorted and boxed almost 10,000 pounds of squash!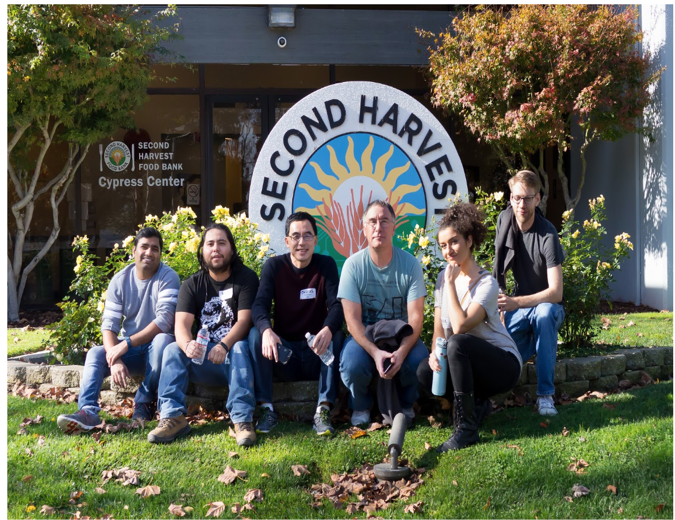 Giving Your Way:

A great benefit during holiday giving season
Winter 2018 – As we wrap up the year with holiday giving, remember to use Benevity: Giving Your Way, Infoblox's platform for giving back. Benevity has been expanded globally, and so far this year, 64 donors have used the system to support 81 causes.
Benevity makes it easy to claim the $500 USD dollar-for-dollar gift matching that is available for each employee every calendar year. Employees are also given two days off for volunteering, and Benevity can help find those opportunities.
Several upcoming events offer opportunities for giving: Benevity and the Culture Club are hosting a Wrapping Youth Gifts events at headquarters and in Tacoma on December 13. There will also be a Benevity online donation program for the Family Giving Tree so remote workers can participate.

Sales Kickoff

combines celebration, preparation, and service
Summer 2018 – Infoblox's FY19 Sales Kickoff, held in Las Vegas in August, brought together the sales team from across the globe. Participants celebrated past successes and prepared for the coming year by sharing best practices, discussing industry trends, learning about the technology roadmap and the latest messaging, and hearing from customers how Infoblox's solutions have made a difference.
Attendees also participated in a team-building service project, building bikes for the local Boys and Girls club in Las Vegas. Infoblox's team raised over $2,100 in addition to the 48 bikes donated. The club was actually onsite to receive the bikes, and all of the kids went home with the brand-new bikes courtesy of Infoblox.